Hello and Welcome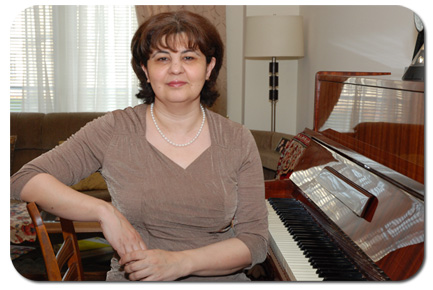 My name is Afruz Mammadova, I am an ORMTA-certified Registered Music Teacher, specializing in piano and music theory lessons. I hold a Ph.D. degree in musicology and have over 25 years of tuition and scientific research experience.
I offer music lessons in dynamic and easily comprehensible format, allowing my students to efficiently develop the necessary level of skill. During classes I strive to not only teach my students to simply play a musical piece, but to also explain the subtleties of different musical forms and styles. This greatly expands the general preparedness level of my students and creates a solid foundation for further development. Piano courses include ear training and sight-reading exercises.
I am based in Oakville, ON and offer Piano Lessons (Grades 1-8) and Music Theory Lessons (Rudiments and Harmony - Basic, Intermediate and Advanced levels). Classes are offered in English or Russian languages.